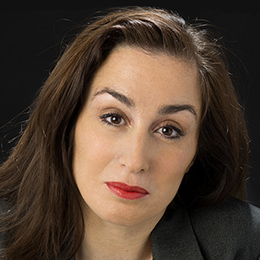 My project when creating this firm was to give a meaning to my vocation as a lawyer. I made my own this Victor E. Frankl's quote: « Everything can be taken from a man but one thing: the last of the human freedoms – to choose one's attitude in any given set of circumstances, to choose one's own way ».
Sophie Amar is a member of the Paris Bar since 1996. She holds a DESS degree in business and tax law from the University of Paris I Panthéon Sorbonne (1995), as well as a diploma from the « Centre des communautés européennes » and a Masters degree in business law from the same university.
Already concerned in 1995 by the impact of telecommuting on a company, at a time of non-existent regulatory provisions on this matter in France, she wrote a graduate dissertation on "Telecommuting: From Dream to Reality.".
Sophie has since taken a great interest in the growing effect of technology on human resources management and on corporate development.
She served as Labour Law manager at EY LAW (Ernst & Young) before joining Stehlin & Associés in 2004 where she founded the Labour Law Department and then was co-opted partner in 2007.
She has been a lecturer at the University Paris XIII and at the IGS Group. For several years, she has been providing employment law training at the Paris Chamber of Commerce and Industry (CCIP) and in many companies  both French and foreign.
Sophie Amar founded the firm in 2013 with  Anne Grenaud and Audrey Gomez de Miranda.