The bill for growth, activity and equal economic opportunities was adopted on June 18, 2015 by the French National Assembly pursuant to Article 49, paragraph 3, of the Constitution.
This text reforms labor law on many aspects:

Exceptions to work on Sunday and in the evening (articles 71 to 82),
Labour lawsuits (articles 83 to 84),
The control system of the application of labour law (articles 85 to 86),
Social dialogue within companies (articles 87 to 91),
Simplifications for companies (article 92 to 94),
Combating illegal international service provision and improvement of the measures to reassure employment (articles 98 à 104).
The key measure of the bill on social matters is the definition of a scale setting ceilings to the damages set by labour courts in case of dismissal without just cause.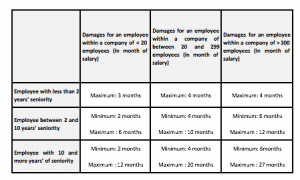 These limits do not apply in the following cases: discrimination, breach of professional equality, moral or sexual harassment, corruption, breach of the protection given to the woman, industrial accident or occupational disease, fitness-unfitness, violation of the status of employee representatives, the right to strike. The bill was sent to the Senate on second reading and should be adopted definitively by the end of July 2015.